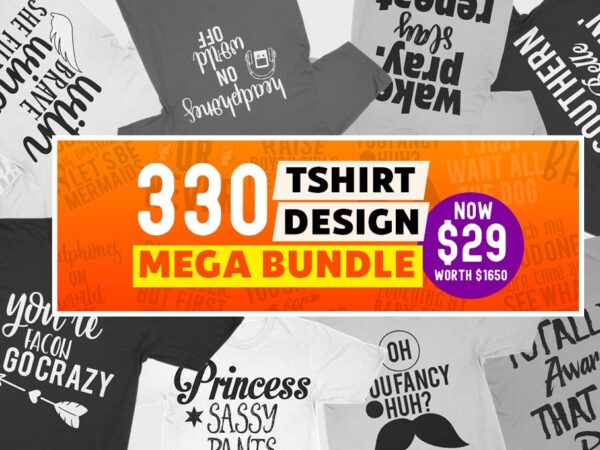 Buy and download this bundle on Buytshirtdesigns.com
330 Fabulous, Print Ready T-Shirt Designs! Want to create trendy t-shirt designs in minutes?
This 330 T-Shirt Designs Bundle will make your t-shirt designs stand out like never before.
This bundle contains 330 premium designs in vector format that are perfect for t-shirts, hoodies, mugs, and flyers too. With completely editable and pixel perfect vector files you can adapt these t-shirt designs to any size. If you are looking for some cool t-shirt designs for your new project, this t-shirt design bundle is for you!
The following sayings are included in this bundle:
But first, mascara
Catch flights not feelings
Coffee adventures
Custom text
Do not touch the bump
Does this baby make me look fat?
Don't worry about me, worry about your eyebrows
Feminist (2 unique designs)
Forty freakin fabulous
Future baby mama
I feel like britney
I only did this to get likes (2 unique designs)
Inbox. Special delivery
Jesus loves this hot mess
Just growing my tribe
Let's get sheet faced
Maybe broccoli doesn't like you either
Never the less she persisted
No pants mode activated
Not today Satan (2 unique designs)
Pregnant af
Pregnant is the new skinny
Tequila made me do it
The snuggle is real
Trust me you can dance. Vokda
Weirdo
We should all be feminists
Work, save, travel, repeat
Ate a watermelon seed, seriously.
Birthday girl
Blessed
Bugs, hisses, and Halloween wishes
But first, Mascara
Carbs
Dear morning, I hate you
Drink champagne, see god
You're facon mlgocray
Femme
Gee whiz adulting is brutal
Hello darkness, my old friend
I enjoy romantic walks to the fridge
I'm literally so tired
Llamaste in bed
Mama tobe
Motherhood be like wtf
My unicon ate my homework
Nope. #No Excuses
Oh my… that beard
Oh you know
Pizza
Please don't make me adult today, I just can't
Queen of the couch
Rise and sparkle
Sassy since forever
Shhh… Mommy is in time out #Mom life
So kiss me
Sorry but I am not sorry
Southern' Belle raisin hell
Stay wild (2 unique designs)
Strong female lead
Strong is like really pretty
Strong is so cute
This girl loves football
Today's mood: Bitchy
Totally worth the wait
Tropy wife
Thrust in the lord
Wake. Pray. Slay. Repeat
Watermelon
Weekends
Wife. Mom. Boss
Wish you were beer (2 unique designs)
You can sit with us
Yuh huh honey
Babby daddy
Baby mama
Bestie
Bride's babes
Bride's maid
But first champagne
But first coffee
But first mascara
Cheers bitches
Classy, sassy, a bit smart assy
Current situation; flawless
Dada
Daddy's little princess
Destroy what destroy's you
Do not disturb
Does this ring makes me look engaged?
Dog
Double
Fabulous like mommy
Feed me tacos
Future wifey
Gangsta napper
Get of your but and work out
Grandma Est 2018
Grandpa Est 2018
Haters don't sparkle
Headphones on, world off
Hello beautiful
Hello handsome
Honeymoon vibes
Hot southern mess
How about nope
Hubby
I just want pizza
I'd rather be at the beach
I'm scary enough
Lake life
Let's get smashed
Mama
Mama bear
Preggers
Raise boys & girls
She stole my heart
So I am stealing his name
Team bride (2 unique designs)
Trouble
Wifey
Adulting is overrated, let's be mermaids
Ain't a man alive that could take my daddy's place
All about that sass
Always hungry
Aunt. Like a mom only cooler
Bad moms club
Baking queen
Beachmode
Best weekend ever
Boss babe
Cat mom AF
Coffee, netflix & yoga pants
Come quickly I am tasting the stars
Do you even squat?
Dog, mother, wine lover
Engaged
Feed me nutella
Friday my second favorite F word
Game day
I can I will
I hate running but I love pizza
I just wanna sip coffee and pet my dog
I just wanna stay home and chill with my dog
I just want all the dog's
I prefer the drummer
I want money, not feelings
I'm sorry for what I said when I was hungry
Jesus loves this hot mess
Just a girl with a dream
Let the adventure begin
Let's be dreamers together
Life is too short for bad vibes
Mama needs wine
Mama tried
Meow or never
Mother of a dragon
My dog is my Valentine
Not today
Ok but first coffee
Princess is tired
The bags under my eyes are designer
The internet is broken so I am outside today
They whine, I wine
Vegan vibes
You betcha
You had me at sushi
You had me at tacos
Badass
Blessed mama
Caffeine queen
Caution touching my baby bump will result in you getting throat punched
Darling let's daydrink
Horror movie addict
I'm the favorite child
If I can't bring my dog i'm not going
Make today amazing
Me Sarcastic? Never!
Miss freaking personality over here
Mouth of the south
Mus makes everything fun
My brain is 80% song lyrics (2 unique designs)
My favorite people call me auntie
My mascara is way to expensive to cry over you
NE RD is the word
Norma is boring
Not today Satan
Now or never
Off the market
Oh you fancy huh
Okay fine, whatever
Omg! Being a princess is exhausting
Pajamas all day
Plant based (2 unique designs)
Princess sassy pants
Professional napper
Refuse to sink
Run now, wine later
Support wildlife, have twins
Talk nerdy to me
The baby made me eat it
The best thing I ever did was believe in me
The struggle is real y'all
This girl runs on Jesus and cupcakes
Totally aware that i'm rare
Touch my food one more time and see what happens
Travel
Travel buddies
Wife, mom, boss
With brave wings she flies
World's okayest sister
What's Included In This Bundle: 330 SVG Files 330 EPS Files 330 PNG Files 330 DXf Files 330 AI Files